The new web app Lighting Catalog Composer by Palazzoli allows you to:
Customise
Create
Save
Send
your pdf technical files for the Palazzoli lighting products.
What can you do with lighting catalog composer?
With the Lighting Catalog Composer you can create electronic documents to better describe in detail the design choices by combining the layout of the Lighting Catalogue 2022 and the always updated datasheets of the lighting products.
Customise the cover of your file
"Customize cover" is a command located on the right side of the screen and allows you to customise the cover of your booklet.
The customisable fields are:
Designer logo (optional);
Date (auto-filled field);
Project name;
Recipient;
To the attention of;
Sender;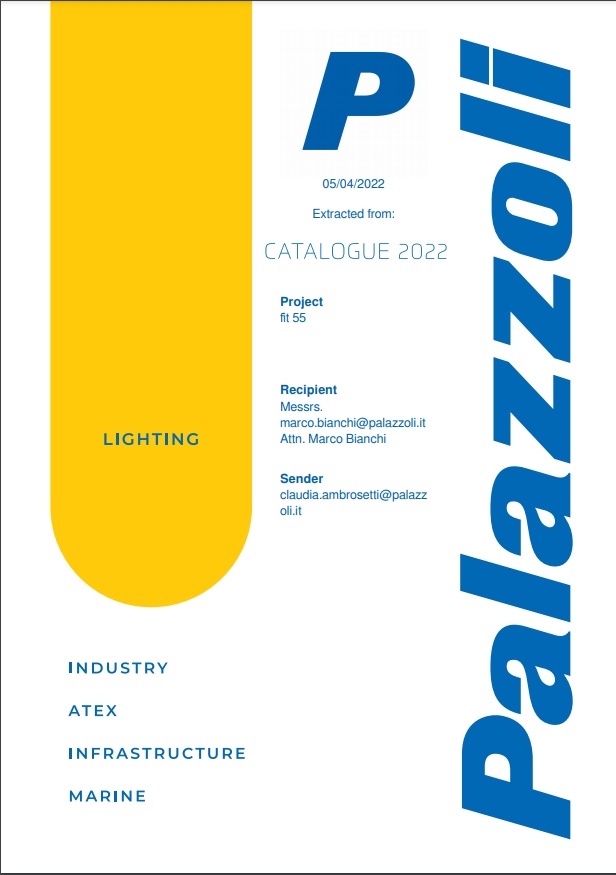 The search of products and datasheets
At the page opening, you will find the indexes of families and products.
The online catalogue can be browsed in the following ways:
By clicking on the product photograph;
By clicking on the page number;
By browsing the catalogue with the mouse or keyboard;
Search by code (e.g. 834310);
Search by type (e.g. floodlight);
Search by series name (e.g. FIT 55);
Search by page (e.g. 199);
Create your file

When the page of interest is highlighted on the screen, by clicking on the command "+", located at the top right of the pages, you start the process of creating your technical file.
By adding pages with the command "+" , the pages are inserted in the "Create your booklet" area: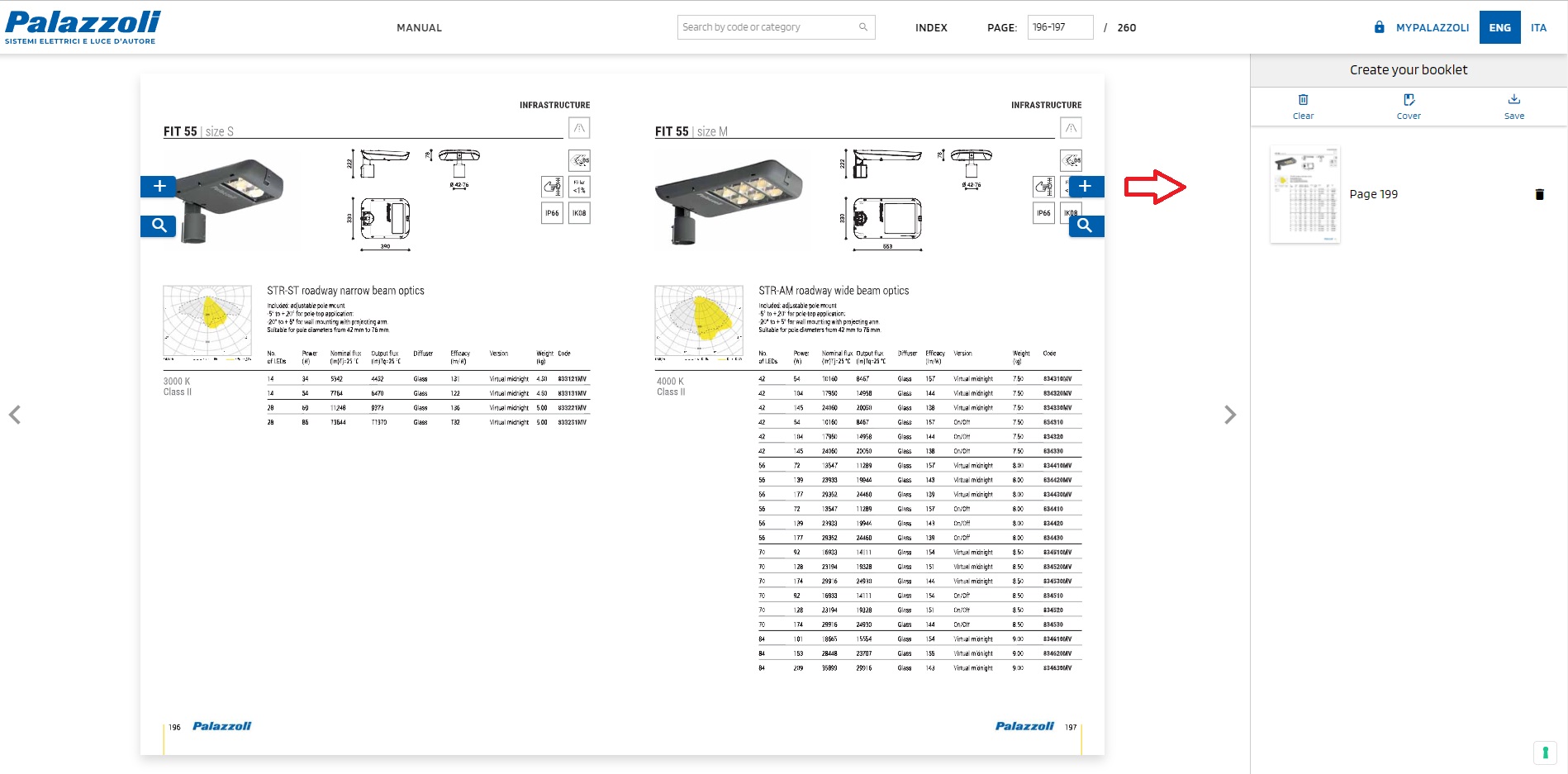 Dedicated dynamic datasheets can be added by clicking on the product code: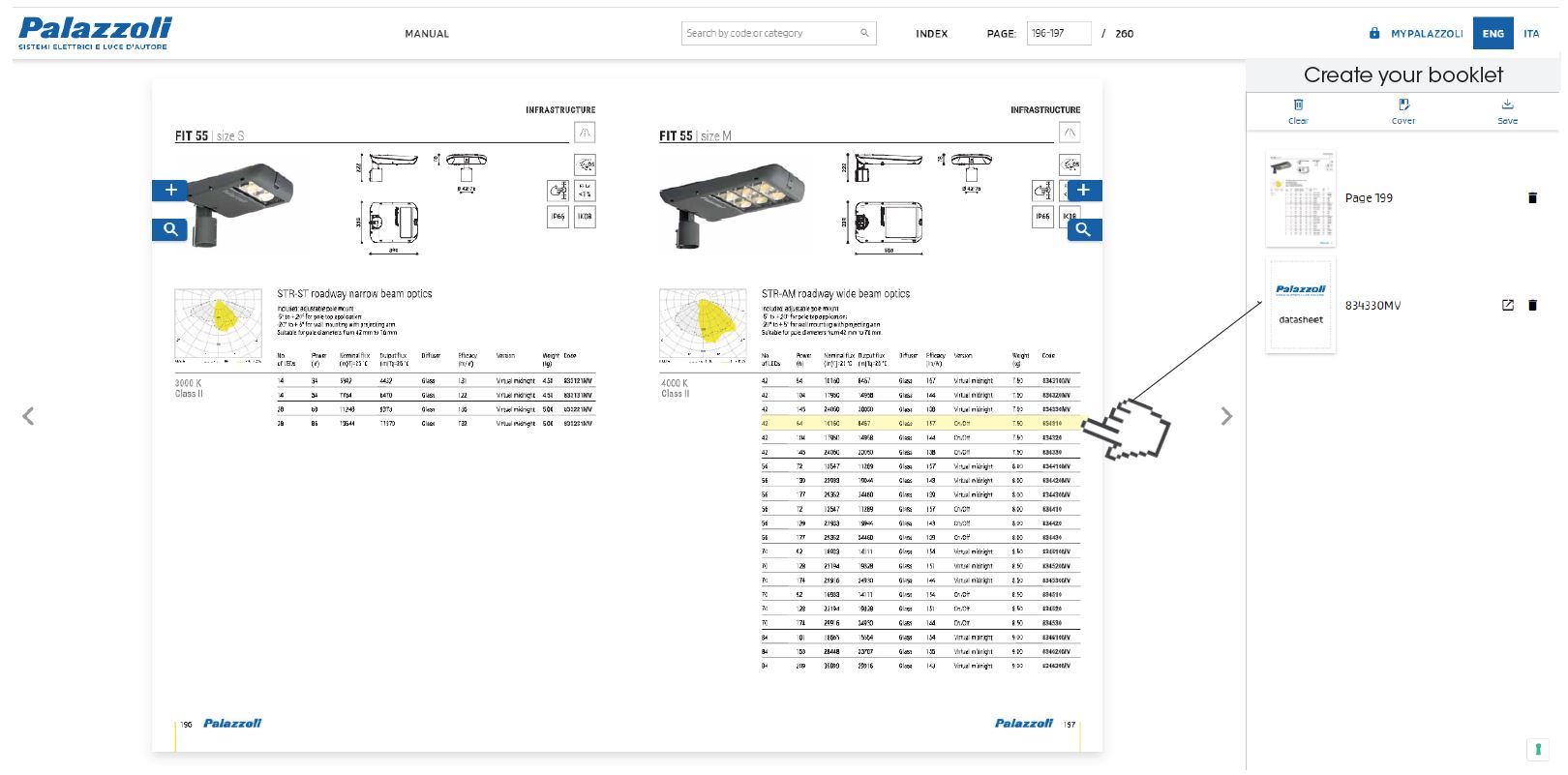 Pages in your technical file can be moved or deleted.
When you have finished inserting the lighting catalogue pages and datasheets, you can save the booklet. You will be asked to enter the email to which you want to send the link for downloading the booklet.
In the MyPalazzoli section you will find all your technical files always available to use.