Maximum efficiency with the smart roadway lighting.
Intelligent, adaptive, efficient and sturdy - these are the features for smart lighting in the cities of the future, providing light only where and when it is needed. FIT 55 introduces itself to the lighting market, confirming Palazzoli S.p.A.'s ability to find innovative solutions also in the street lighting market.
FIT 55: Optics for every need
In its standard configuration, FIT 55 is a LED lighting fixture available in two sizes:
Size S: with dimensions of 330x390x78 mm, power up to 85 W, and luminous fluxes up to 12000 lm, suitable for secondary roads, car parks, cycle paths and pedestrian crossings;
Size M: with dimensions of 330x553x78 mm, power up to 209 W, and luminous fluxes up to 30000 lm, suitable for main roads and motorways.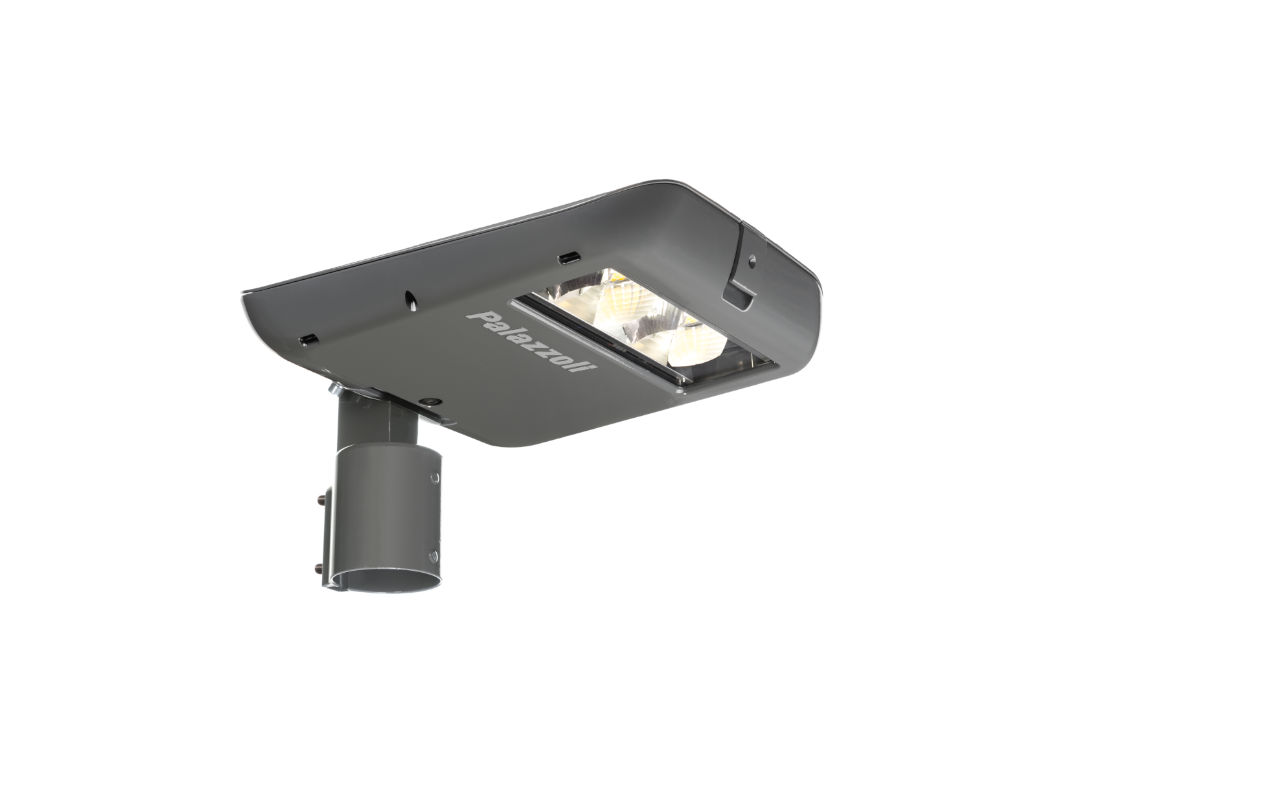 Palazzoli FIT 55 Size S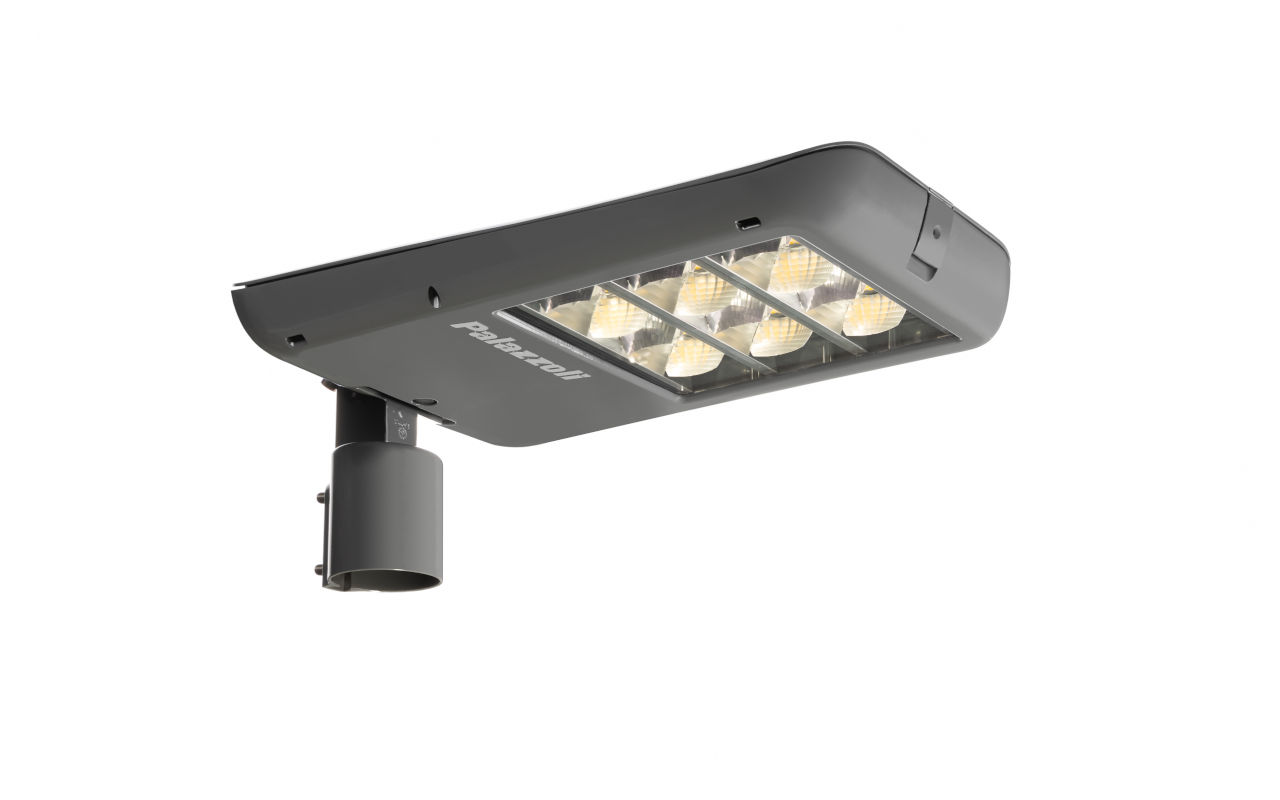 Palazzoli FIT 55 Size M
FIT 55: the pluses
With the innovative Palazzoli's system called FOS, FIT 55 Optical System (patented), a new way for adjusting optics has been introduced.
By the mean of a screw placed inside the housing, FIT 55 allows to have five different roadway optics within the same product.
It is possible to adjust the reflectors made of aluminium even when the product is already installed, to modify the front and side light emission.
Therefore, with the same product we can light up a very wide range of urban roads and motorways, cycle paths included, while saving on storage and respecting the guidance on roadway lighting installations adopted by the European Union for reducing the lighting pollution.
Power and output flux have been optimized according to luminous efficacy, never lower than 130lm/W, and can be chosen according to project specifications.
The standard product uses LEDs with a colour temperature of 3000K and 4000K; in both cases, colour rendering index is always higher than 70 while having a MacAdam 4-step colour consistency.
LEDs with a lower colour temperature have a lower blue light component of the non-doped organic light-emitting diodes. The range uses white light LEDs with a colour temperature of 2200K to 5700K.
All the light sources have a photobiological risk RG0 according to the Exempt Group (EN 62471).
FIT 55: Smart control systems
FIT 55 on the one hand can automatically regulate the luminous flux by means of a timer inside the product, or alternatively it can be equipped with Nema or Zhaga Socket systems, to monitor and centrally manage public lighting through wireless control and can be, in the near future, integrated with the IoT world.
More specifically:
Zhaga Socket is a sealed data socket (made from UV-resistant materials) located on the bottom of the light fixture, powered at very low voltage by DALI-2 driver inside the light fixture, designed to manage modern wireless remote management systems. This system can be integrated with an additional socket to power a motion sensor, also located at the bottom;
Nema Socket is a sealed powered socket, located on the cover of the unit to simplify maintenance by avoiding access to internal electrical parts. It is the ideal interface for installing conventional light sensors and is equipped with 5 or 7 poles: 3 for the electrical connection, the remaining 2 or 4 pins to carry the signal with 1/10V or DALI protocol.
Fit 55: material durability and ease of use
FIT 55 consists of a die-cast aluminium housing with a corrosion class C4 according to ISO 9223.
The electronic control unit with proprietary LED modules is equipped with isolator switch, short-circuit protection, overvoltage protection and overtemperature protection of 10kA.
The isolator switch guarantees safe maintenance even without cutting of the power. The optical unit consists of reflectors made of 99.9% pure aluminium for high, long-lasting photometric efficiency and perfect glare control.
The extra clear flat glass diffuser is 4 mm thick, tempered, impact resistant (IK08), and UV resistant.
Ease of maintenance is guaranteed by the flapless cover with removable plate that can be snapped off the body without tools.
The electronic components are strictly selected, with X-ray checks of the LED solder joints. In fact, the choice of high-level components has allowed Palazzoli to opt for a power supply unit that guarantees a life of over 100,000 hours, and to provide the market with a product warranty that can be extended to 7 years.
Correct LED Street lighting must guarantee maximum visual quality, safety, and energy efficiency.
With FIT 55, citizens move in total safety with excellent visibility conditions and, at the same time, municipalities save on energy costs.