FIT 55
FIT 55 street light fixtures in aluminum alloy with adjustable optics, from 2800lm to 30000lm, ip66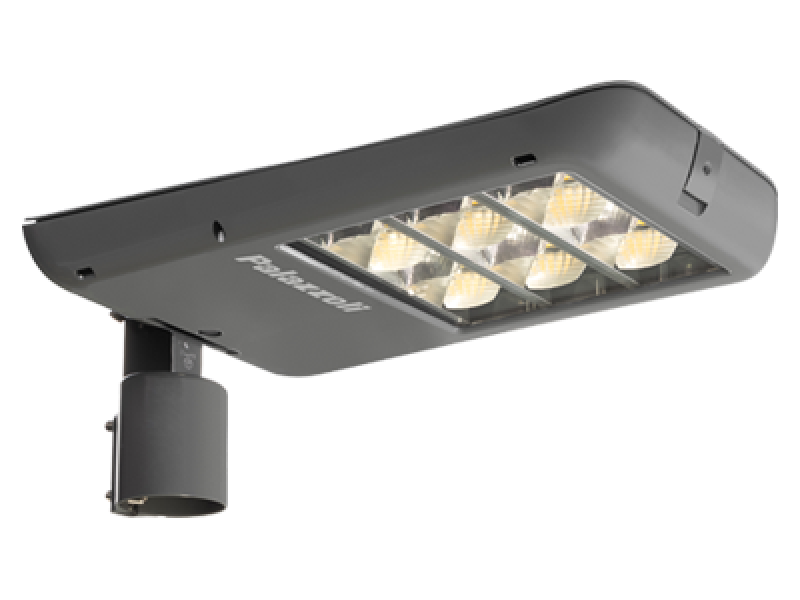 FIT 55 series is the excellent solution by Palazzoli for LED street lighting applications: roads, intersections, roundabouts, highways, junctions and parking lots.
FIT 55 products in their standard configurations are available from 34W to 209W with luminous fluxes up to 30,000lm.
FIT 55 LED street lighting products offer the possibility of having five different street optics inside, which can be modified by adjusting a screw placed inside the street lighting.
FIT 55 is the only fixture that, thanks to the patented FOS (FIT 55 Optical System) solution and by moving the aluminium reflectors, allows the optics to be adjusted in up to 5 positions, even when the product is already installed, to modify the front and side light emission.
The LED street lights are made of low copper content aluminium alloy for maximum resistance even in hostile environments. The electronic components are strictly selected, with X-ray checks of the welding on LEDs.
The body is in die-cast aluminium EN 46100 with anti-corrosion treatment for maximum resistance in harsh environments.
Your purchase of Palazzoli lighting products contributes to the Research on Breast Cancer Immunotherapy.